July 2017 - Sixth form Updates and Announcements

In this edition
July 2017 Edition
The end of the summer term is often the most exciting of the school year as three sets of students are going through exciting transitions. Our Year 13s finished their exams and had a great send-off before seeking out new adventures at University and beyond. Year 12s have been planning their futures with work experience, life skills workshops and Uni Taster days over the last few weeks. Plus, we welcomed Year 11s during a busy induction period to prepare them for Sixth Form Life in September.
As you'll see in this newsletter our Sixth Form students have achieved great success over the year and continue to do themselves and the school proud. Thanks to all students and parents for your support this academic year and of course thanks to our dedicated team of teachers and support staff who have worked so hard to make the Sixth Form an exciting place to study and work. Have a great summer.
Mr Ballantyne
Moldova 2017
We are so proud of the 31 students who have returned from Moldova this week. They ran a play scheme across two schools, teaching English across a range of subjects, including Music and Drama, Sports, Art, STEM, and Puzzles. We visited the capital city, Chisinau, and the local town, as well as a monastery. Two projects were completed this year, one of which was to paint the stairs to show the times tables up to ten, and to paint a display in the main entrance of the school showing a local dance called the Hora. The students also completed fundraising for the trip, which included a concert, a mudder run and helping with a quiz. The money raised has contributed towards a new computer suite in our main school, called Ion Creanga. Every student who came was a real asset and we look forward to visiting Moldova again in 2018.
Mrs Downey and Mr Price
UCAS and Unifrog
As one UCAS process finishes for Year 13, another starts immediately for Year 12! All of Year 12, irrespective of whether they are planning to head to university has started their UCAS applications and these are well under way. Mrs Gordon has been working with the pupils to guide them through this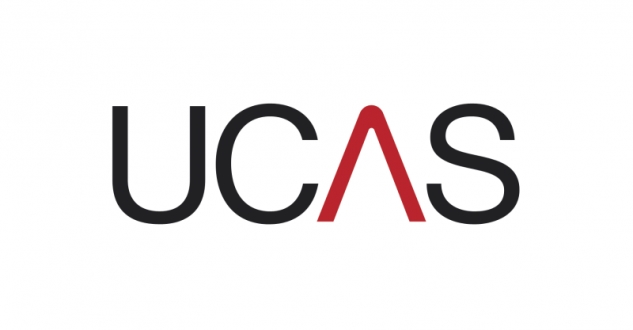 process and will be on hand in September to assists further with this. It would be a good idea, however, to use Unifrog to help shortlist universities to ease the process when the time comes to selecting courses and universities in the new academic year! Any questions at all, please do not hesitate to contact a member of the Sixth Form team.
Mr Leach
University Summer Schools and Sessions

Many universities are currently offering taster sessions and summer schools for A- Level students to attend. These sessions allow pupils to gain a deeper understanding of what topics pupils may study when attending said courses. They can be both daily courses or can be residential as well. Attendance at summer schools or taster sessions also look fantastic on UCAS applications and CV letters. The University of Reading offer many summer sessions if you are looking for a university close to home.
https://www.opendays.com/
Mr Leach
Exams and Results Day
As the External Exam season comes to an end, we wanted to remind you of the Results Day set up for August. Below is a reminder of the timings for Thursday 17th August for the AS and A2 results Good luck to everyone and the Miss Evans, Mr Ballantyne, Mr Leach and Mrs Gordon will all be available to talk to regarding results and Year 13 arrangements.
A Level- Thursday 17th August at 9:00am – School Library
AS Level- Thursday 17th August at 10:00am – School Library
Please remember that if you are unable to collect your results in person, you need to authorise someone to collect them for you. A letter of authorisation should be signed by the pupil and brought with the nominated person.
Mr Ballantyne
Futures Fortnight
This year saw the pilot of 'Futures Fortnight' for our Year 12 pupils. The last 3 weeks of term (not quite a fortnight…) have been dedicated to thinking about the future! Many of our students have opted to undertake tailor made work experience specific to their future plans! We have students placements in the NHS, political parties and engineering firms as well as pupils travelling further afield heading to France and Spain.
This has been a fantastic opportunity to add to personal statements as well as CVs. As well as work experience, we have hosted sessions on First Aid, Personal Finance, Mental Health, EPQ's (Extended Project Qualification), Unifrog and UCAS as well as a trip to the University of Reading. Quite a busy few weeks but we hope that pupils can take a significant amount away from this to enhance their applications for university, apprenticeships or jobs.
Mr Leach
Summer Work
Summer work has been set by all subjects for both Year 11 into Year 12 and also for Year 12 heading in to Year 13. This summer work helps to ease the transition into the new academic year and forms a very valuable foundation for pupils to pick up where they left off. Please ensure all summer work is completed by the start of term in September and our new Year 12 students will need to hand this to their subject teachers on enrolment day (see below for more details).
Click Here to Download Summer Work
Mr Leach
Drama Performances
In June, Year 12 Drama students had to devise, direct and perform an examined piece of work adapted from an originally written play to a selected audience. On arrival to the drama studio, it was evident that the students had put an extensive amount of work into making the set look as fantastic as it did. Nick, the set designer had done a wonderful job arranging wooden pallets to form an active set with podiums, slides and treehouses. When the performance started, the audience were blown away by the intensity of acting, quality of characterisation and the way the students captured the audience's attention. All in all, the performance was fantastic! Well done to Jess Willis, Georgia McDonnell, Eliot Luke, Abby Ryan and Nick Moxley.
Mr Leach
ICMA Stock Market Challenge- WINNERS
On Tuesday 4th July, Mrs Thornton took 10 Year 12 pupils to Reading University to take part in the annual Stock Market Challenge. Pupils had to buy and sell shares whilst monitoring share prices based on news articles being generated as the day went on! All pupils had a fantastic time under the pressure of the market! Amazingly, Kieran Tan and Jack Conn were the winning pair from all the schools in attendance, both winning themselves an iPad! Overall, Willink students did fantastically well. Great work everyone!
Mrs Thornton
Geography Field Trip
Part two of the geography A-level course took us to the human side of it all with an exciting to trip to London to observe and consider the places and spaces and the diversity of London as a city. There has been major redevelopment in London over the past century but as we went to different sites it was clear that change has happened over varying time periods and for different individual reasons. After a short train journey, we were on the underground where we headed to the Greenwich Peninsula, home to the O2 arena and part of a much larger entertainment district. It was interesting to see the changes with new modern state of the art buildings and the O2 itself; it promotes a rich variety of culture and art which represents the area and to give the Peninsula a new identity. The final part of our trip took us to the square mile where we were once again surrounded by huge buildings and famous places like St. Paul's Cathedral where Mrs Hiscock took a quality picture of the squad. From here we walked to Shoreditch; an inner-city district which prides itself on creativity and art with the influx of web technology companies. This former working class place has been gentrified by these creative industries. Our final stop took us to the Old Spitalfields Market promoting a café culture and with countless markets selling individual products unavailable anywhere else. The day finished there as we trekked back to the underground to get back to Paddington. With the purpose of the day achieved we sat back and relaxed on a peaceful train journey home, the end of another great geography trip with many thanks to Mr Burgess and Mrs Hiscock.
Seb Andrews, Year 12
PR Motors- Mechanical help for Year 12
During Futures Fortnight, PR Motors of Tidmarsh visited the school to deliver a presentation and practical session to our Year 12 students. Equipped with three cars, the PR Motors team showed our students how to top up engine oil, check washer fluid levels and even how to change a tyre;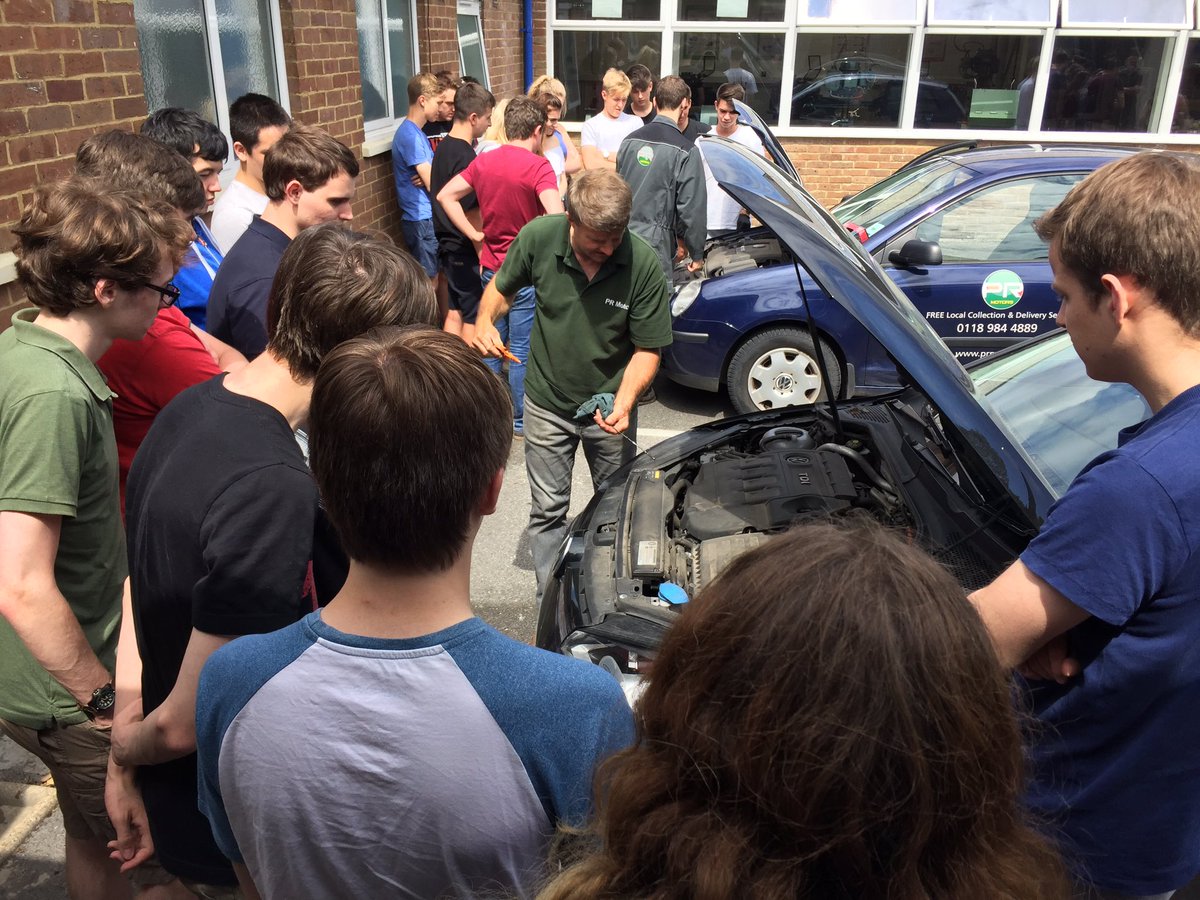 a fantastic life skill! As well as this, Franny from PR Motors delivered a presentation about how to stay safe on the roads, be economically efficient and how to deal with issues with your car. Thank you very much for your visit, PR Motors.
Mr Leach
Sixth Form Enrolment Timetable for September
Tuesday 5th September 2017
| | | |
| --- | --- | --- |
| Year 12 | | |
| 8.30 – 8.45 | Year 12 registration | Common Room |
| 9:00 – 9:30 | Year 12 enrolment – hand in summer work | Departments |
| 9.40 – 10.40 | Year 12 photographs | Drama Studio |
| 10:50 | Year 12 depart as long as sufficient summer work and induction have been completed. | |
| 10.30 – 11.30 | Induction for those year 12 students who did not attend induction in June | Study Room |
| 10:30 – 15:05 | Summer work for those who have changed courses, or for those who have handed in insufficient work. | |
| Year 13 | | |
| 9:45 – 9:55 | Year 13 registration | Common Room |
| 10:00 – 10:40 | Year 13 enrolment | Departments |
| 10:00 – 11:00 (Students go directly from enrolment to Drama studio | Year 13 photographs | Drama Studio |
| 11:30 | Year 13 depart (unless Summer Work has not been completed) | |
Wednesday 6th September 2017
| | | |
| --- | --- | --- |
| 8:40 – 9:00 | Year 12 & Year 13 registration | Tutor rooms |
| 9:00 – 9:50 | Assembly/tutor period | Drama Studio |
| Lessons start from period 2 | | |
Thank you very much for your support over this last academic year. We look forward to bringing you some fantastic news stories in the next academic year
Have a great summer