A Level and GCSE Results 2020
We are pleased to be able to welcome Year 11 and Year 13 students in to school to collect their results. Full details of when students should collect their results and social distancing arrangements that will be in place can be found on the following documents.
Please read the following documents carefully to find the collection times for students.
A Level results - thursday 13th august
gcse results - thursday 20th august
Supporting students with results
Please return to this page on the day of results to book a virtual appointment with a member of staff if your son or daughter needs support and advice following their results.
How grades have been awarded this year
We appreciate that this has been a difficult time for students and parents in waiting for results following the Government's cancellation of exams in March.
At The Willink School we have been committed to carefully following the process for assessing grades with a high degree of accuracy in order to allow students to progress to the next stage of their lives in the normal way.
The links at the bottom of this page from The Office of Qualifications and Examinations Regulation (Ofqual) are useful in understanding the process for awarding grades.
The grades that the school submitted to the exam boards were agreed following an internal quality assurance process and are not the sole responsibility of any individual teacher.
The standardisation model developed by Ofqual and the awarding organisations is statistical and may not reflect the grades submitted by the school. The standardisation process applied by the exam boards ensures grades awarded this year are consistent with those awarded to other cohorts in other years.
This was the fairest possible approach available under extreme circumstances. It is a rigorous process which means that grades awarded this year are as valid as in any other year.
WATCH: Ofqual video on how grades have been awarded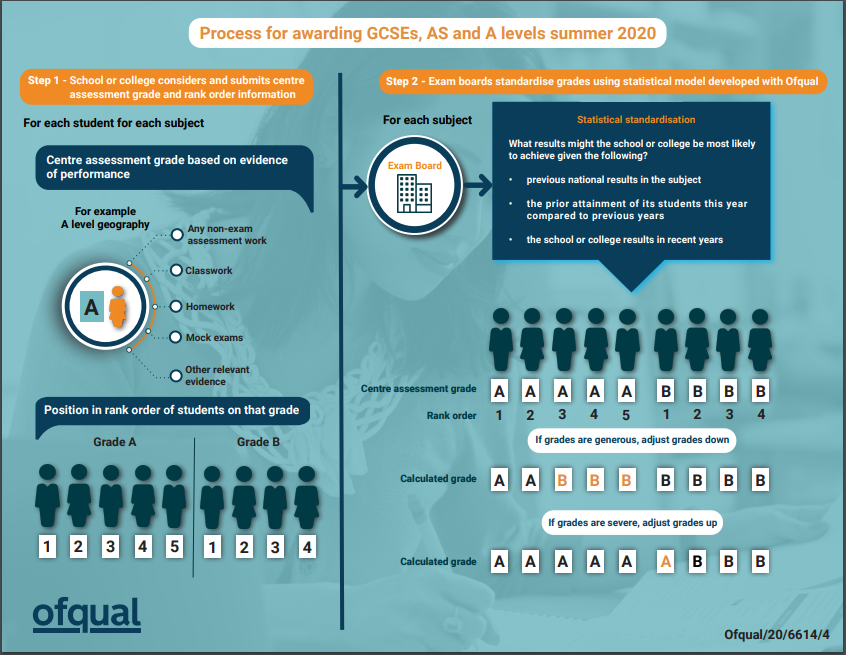 Click image for larger version of how grades have been awarded.